Fuel Sales
Pricing and Delivery
We encourage all customers to be on a automatic fill schedule, but if you choose to be a "will call" customer, must call for a delivery when the gauge on your tank is at 30%!
This will give us enough time to deliver your propane before the tank is empty.
Contact Us Now for current price or to schedule a delivery.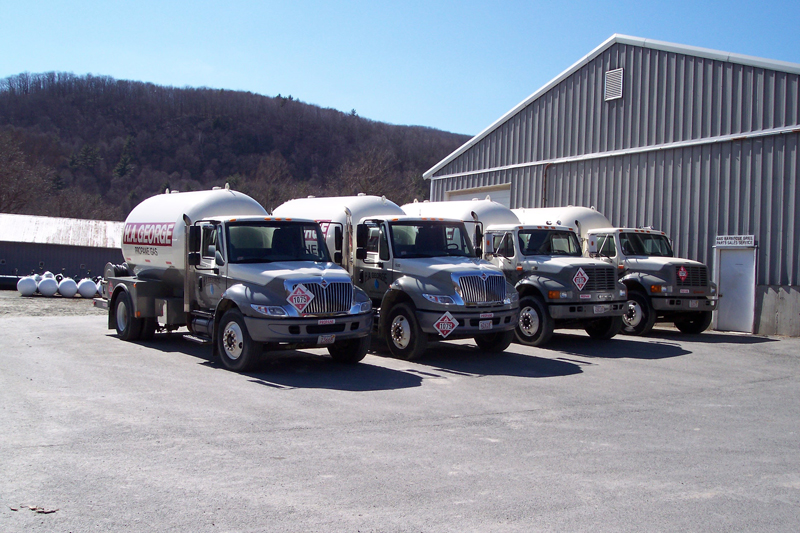 We also encourage all customers to have their tanks filled when we deliver. This eliminates unnecessary return trips for our drivers and also reduces the chance of an out of gas situation. (Minimum deliveries are required if a will-call customer does not choose to fill the tank.)
If your tank does run out of propane, we must have access in order to check the gas system and turn in the gas. Due to insurance safety standards, we cannot deliver propane and leave the tank shut off.
If you run out of gas because you are a will-call customer or have a past due balance, there will be a service charge to check the system and turn on the gas.
By strictly in forcing these policies, we feel we can provide better service to all our customers.
Minimum Deliveries
A minimum delivery fee of $35.00 will be added to all delivery calls that do not want their tanks filled.
Tank Size Minimum Delivery
50-250 gallon tanks - require 100% fill
320 gallon tank - 200 gallons min.
500 gallon tank - 250 gallons min.
1000 gallon tank - 500 gallon min.
LABOR RATES & POLICIES
Regular Service Hours: (Monday - Friday, 8AM-4PM) - $85/Hour - 1 Man, $140/hr 2 Men
After Hours/Overtime/Weekend - $140/Hour - 1 Man
- Applies to Service Calls made BEFORE 7:00am or AFTER 4:30pm MONDAY – FRIDAY and ALL SATURDAY & SUNDAY CALLS.
Holidays - $180/Hour - 1 Man
- Applies during all FEDERAL HOLIDAYS AND HOLIDAY EVES (example: Christmas Eve, New Years Eve, etc)
- Hourly rate starts from the time the service tech leaves our yard, One hour is the minimum rate charged per service call.
OUT OF GAS SERVICE CALLS are charged the same hourly rates as listed above.
Contact Us Now for current price or to schedule a delivery.
Payment Options

Our standard payment terms: Net 30 days
Our budget plan is available to those customers who wish to pay for their propane in 12 monthly installments. The plan starts at the end of August.

Pre-Pay Fixed Price Plan. Customers also have the option to pay for all or a portion of their propane needs in advance at the beginning of the heating season. The amount is payable by the beginning of September. The price is fixed and discounted from your regular-posted price. Once you have used your pre-paid gallons, your price will revert to the regular-posted price. Any other charges such as service or rentals must be paid in order to maintain your credit balance and continue fixed price deliveries.
If you are interested in the Budget or Pre-Pay Fixed Price Plan, please e-mail or call the office for specific pricing and details.